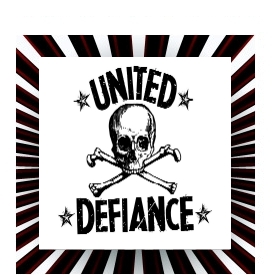 Joined Arm The Pit
April 22, 2013
Hometown: Concord, California
Rich Brown-Guitar/ vocals
Danny Tuggle-Drums/vocals
United Defiance formed in 2005 in the East Bay of Northern California. The band has been a part of the ever changing punk scene ever since.
United Defiance stands for far more than just the members in the band. Individuality, politics, friends and family these are some of the things that help drive our influnces in music.
We do not see the need for competition with other bands, we raise our fist in support to you all.
We have been lucky enough to have played some of the best venues and with some of the best bands all over SF, Oakland, Berkeley and Northern California and Nevada. After about a 2 year hiatus UD is back with a vengence. With alil bit of a new line up and a wholemlotta motivation Expect to see huge things from United Defiance
Like our page, download our CD, go see a show and help support your local music scene.
Facebook: https://www.facebook.com/Uniteddefiance
Reverbnation: https://www.reverbnation.com/uniteddefiance
Show Your Support:
Repost This On Your Facebook Wall And Join The Street Team
Kids, Today's Homework. Check out United Defiance at Arm The Pit
http://www.armthepit.com/artists/artist/u/u2/index.html