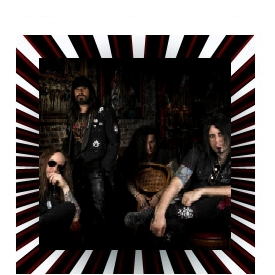 Joined Arm The Pit
April 4, 2015
Hometown: Atlanta, Georgia
Record Label: Mighty Music/Highway 9 Records
Band Members
Heber Pampillon/ Guitar
Jimmy Berdine/ Drums
Joe Edwards/ Vocals
Chris Taylor/ Bass
About Us
Mix a little bit of sleaze, a little bit of blues, and a whole lot of rock n roll attitude, and you have KICKIN VALENTINA a band that is quickly gaining attention while growing a solid fan base across the US and abroad. In January 2015, KICKIN VALENTINA began recording their follow-up CD Super Atomic at Muse Productions Studio in Atlanta, GA with renowned Producer/Engineer Andy Reilly (Bruce Dickinson, UFO, Cradle of Filth, Asia, The Quireboys), to be released on April 28, along with the first single and video for the song Wrong Way. Mikey B. from the rock music site Amplified Edge is a believer, stating It s great to see bands that still fly the flag for rock n roll. No matter what people say, it s never gonna die - so just grab your favorite tasty beverage, put your fist in the air and enjoy it. Ass-kicking, honest, dirty, fist-pumpin rock n roll.
KICKIN VALENTINA was formed in early 2013 by guitarist Heber Pampillon and drummer Jimmy Berdine. After meeting vocalist Joe Edwards (whose distinctive style has been described as a diamond in the dirt ), they began writing and rehearsing, then recruited bassist Chris Taylor to round out the lineup. The band was quickly picked up by Atlanta based indie label Highway 9 Records and released their debut self-titled EP in October 2013.
KICKIN VALENTINA has been busy touring the country and opening for artists as diverse as Buckcherry, Queensryche, Pop Evil, Fozzy, Skid Row, Red Dragon Cartel, Sebastian Bach, Doro, Eve to Adam, Faster Pussycat, Nonpoint, Kix, LA Guns, and Cilver to name a few. In addition to their own headlining shows, they have also performed at a variety of music festivals such as Soundwave (MD), Rock n Skull (IL), Wolf Fest (CO), Skull Fest (NE), Summer Rock Party (IL), Outskirts 53 Music & Bike Fest (GA). In June 2014 they were nominated for and won the prestigious 2014 GA Music Award for Rock Band of the Year. Their first single Get Ready is being used by the Jacksonville Axemen Rugby Team for promotional commercials and played during home games.
2015 is already kicking off to a great start. Both Get Ready and the standout track Alone will be featured in the new action horror movie and soundtrack Altered from award winning film director Kely McClung. KICKIN VALENTINA will stay busy supporting their brand new album and touring extensively, spreading their unique and unapologetic brand of rock n roll to the people that still believe.