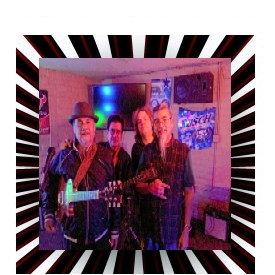 Interviewed By Arm The Pit
January 19, 2014
ATP
For the record, who's answering the interview?
BBQED BLUES
Bob Cail
What is your band's name? How did you come up with that name?
BBQed Blues. When one BBQs, one needs a marinade. We come from a mixture of influences
So who's in the band and what instruments do you each play?
I play French harp (harmonica )and guitar also vocals, Miguel Contreras Bass, guitar and vocals, Bobby Gene Cail(son) Drums, and Victor Perez Keyboard
How would you describe your sound. What makes you unique?
We are unique because of our unconventional approach in which blues purists frown upon for eg. bends and effects on keyboards, double pedaling on drums, hard driving element added to it and we can carry it to a pure style as well.
What bands have influenced each of you?
My son heavy Metal such as Meshugga, myself the Johnny Winter, Allman Brothers & Walter Trout to Tbone Walker for guitar and Little Walter, Butterfield for harp. Miguel I'd say Santana, Victor the keyboardist anywhere from old progressive rock to jazz to classical music
How experienced are you on the stage, a virgin or whore?
A little of both. You are always learning
How would you describe your shows?
Tell us about your favorite show and why?
I think it was the Battle of the Border here in El Paso Texas. We competed with different genres. We were forewarned that blues doesn't ever place. Which is true. We had a great time even though never placed. However received a great response from the crowd.
Tell us about your worst show and why?
I guess the shows where you do not benefit because you are paid what the house gets and , not everyone gets their on time forget parts of equipment.
Tell Us About Your Dream Show, who you'd like to play with and where?
I'd love someday to get a gig at Antone's in Austin.
Do you have a street team and how can you join?
Do you have a record label and if not are you looking for one?
What are your plans for the future, in a year, 5 years?
Keep playing the blues. I'm thinking of going to San Antonio, Austin, Dallas or Houston. The Blues in this town is not very popular and at times frowned upon by the Rock genre.
Finally, do have any words on what Arm The Pit means to you?