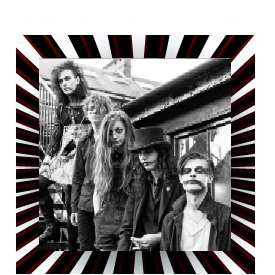 Joined Arm The Pit
August 22, 2015
Hometown: Milton Keynes, United Kingdom
Band Members
Spectre Lacroix - Vocals
Sweeney DeVille - Lead Guitar
Rize LeStrange - Rhythm Guitar
Dagon Attarno - Bass Guitar
D.D - Drums
Bio
The Acid Ballet was formed when vocalist and lyricist, Spectre Lacroix, moved 200 miles away from his old life in Devon to Milton Keynes; with nothing to lose, some bad habits to kick and the ambition to create a band combining his love of classic heavy metal, 80's Goth/post punk, David Bowie and the type of rock'n'roll that's virtually non existent outside reruns of the Old Grey Whistle Test. He didn't expect anything to get off the ground nearly as quick as it did, when he sent a message to his long time internet pen pal from Birmingham, Sweeney DeVille, who immediately bought a train ticket and met Lacroix for coffee and roll ups at the train station's cafe. The pair looking like the most pretentious artsy couple you could imagine. The two of them bonded over a love of Rozz Williams, Bauhaus, Black Sabbath and The Damned. It was clear from the moment they met that something would have to happen - they shared the same vision.
Lacroix's brother soon moved up to join them, a skinny sack of drum sticks, amphetamines and bones known as D.D. He'd heard what his brother was working on and left everything behind to join them. After getting trashed and fooling themselves they sounded decent enough at their first rehearsal (covering Shadowplay by Joy Division - a staple in their set to this day, and Helena by The Misfits - one that didn't make the live cut...), they set up a Facebook page to see what they could make of themselves on the world wide web. At this time their line up featured Ricky Mortis, a long haired misery of a guitar player, who could pose on cue at any point, and the stunningly odd transgender bass monkey, Daniel Starr.
They chose their name from a dream Lacroix had in Devon, when he'd had the genius idea of combining MDMA and LSD, and consequently met Labyrinth era David Bowie. Apparently, this was not Bowie at all, but Satan in his from - he'd sent Lacroix a vision and with it a concept. It was probably rubbish, but The Acid Ballet was a good enough name.
Milton Keynes has one noteworthy venue currently, The Craufurd Arms. A place where legends like The Cure have played in it's past. Lacroix had been for a drink with a close friend, and had met the booking manager, a living ewok called Paul Rivers. Paul had heard talk of the band, as a naturally theatrical band such as TAB was previously unheard of in a scene dominated by brash hardcore and knuckleheaded metalcore. One of TAB's influences, a pioneer goth band called Christian Death was playing later that month. They weren't expected to bring a huge crowd in the area, so Paul kindly gave TAB the main support slot, to bring a younger crowd to the show. Dressed in fishnets, bad make up and unwashed work shirts, they descended on Craufurd and played with the show with everything they had. Leaving the crowd, the venue and the headline act not knowing whether to applaud, cry, or laugh at the absurdity of it all.
From that, TAB's home fanbase grew rapidly - with their next show being a summer headline spot at Craufurd. Another gift from the godfather, Paul. They got together with other local bands of the same age, and played a show that would define the beginning of the young Milton Keynes scene. A scene built on respect, friendship and a diverse mix of everything from groove metal to 90's style alt. rock - all inspiring each other and bouncing off each others sound. It was playing this show that Sweeney, D.D and Lacroix really decided they wanted to go the distance. The energy of the crowd, the passion of the performance and the true rock'n'roll fun of it all was like nothing they'd ever known. It didn't matter that the music wasn't great when you played it with enough balls.
From there, the band decided to work tirelessly for the rest of the year on their song writing and showmanship - to try and truly realise the vision that they'd had together at the beginning of the year. They soon attracted the attention of the wider underground young theatrical rock scene - playing shows across the country with bands like Ashestoangels, In Dante's Eclipse, Ugly Love and The Dead XIII. With commitments to University and a disagreement in creative direction, Ricky Mortis and Daniel Starr moved on, with a tall, ominous, shadowy figure moving in to play the thunder - Dagon Attarno. A temporary spell with a pot smoking metalhead by the name of Saxon Crane convinced the band to go in a heavier, darker direction, before the permanent addition of quietly violent rhythm guitarist, Rize LeStrange.
With the new permanent members, the diverse influences from each one and the brotherhood they'd found in playing their music where they could, The Acid Ballet was finally set in stone and ready to take on the world.